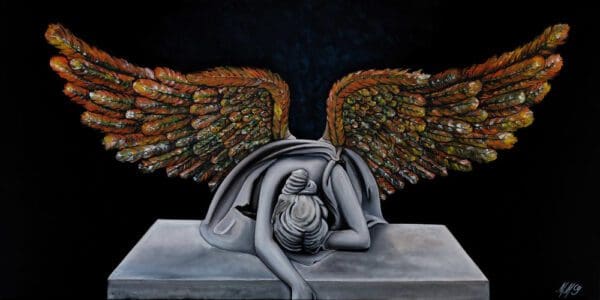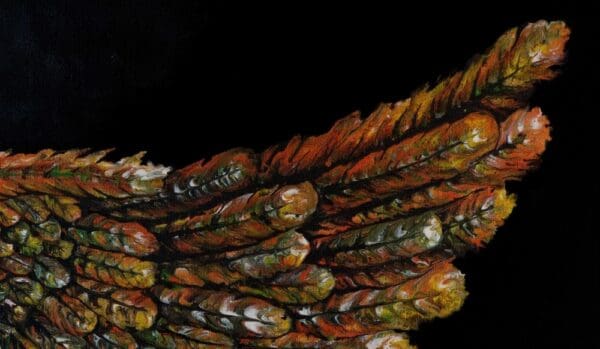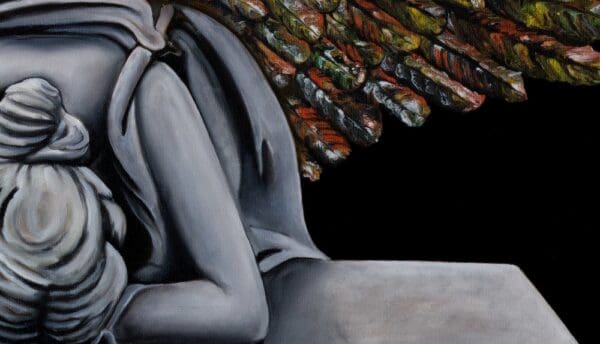 Rising Angel
This piece relates to both the Covid pandemic & social inequality. Instead of a fallen angel, thinking of loss of all life (while that is important), there is a different view. This piece "Rising Angel" is about the upturn, the solidarity and being united, awakening of consciousness and defining a new normal. Retrospective of the Covid pandemic, we are all thankful for everyone who helps another. This further includes our tremendous response in unity for first responders, front line workers, and everyday citizens helping neighbors and community.
For our social pandemic, today continues to draw attention to the devastating effects of long systemic racial injustices. When this painting was first conceived, I was drawn to how the Covid pandemic was non-discriminatory and inspired solidary within communities for a united front to social distance as well as support for first responders. The rising angel for me is so relevant as movements erupt in moments of rage to unite, leading towards widespread transformation against racism and injustice. Let us heal, let us be better, let us rise up. Least of all, let us never forget victims who did not make it through these challenging times of both.
This angle is not fully risen, but her wings are starting to pull up. Find a way to push ahead, put loss on your heart, but do what you must to "rise up" to see the world – for another day. Do what you can to appreciate life for what it is, a gift. Make today the best day you can, and make a difference.
Related products
Prints Only

Love of Wine

Prints Only

Wine Enthusiast

Prints Only

Fuego Betta

Original Available

Bonsai on the Beach

$

1,300

room viewer
Preview how an artwork will look on wall